5 Ways to Keep Your Hoboken NJ House Smelling Fresh, Clean and Amazing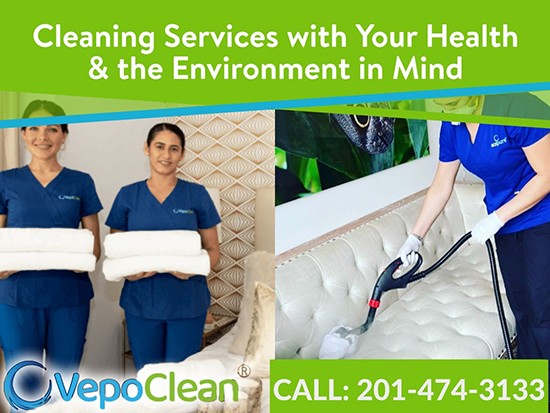 Imagine entering a home, and it smells fresh and amazing. Wouldn't that be homely? It's nice to spend leisure time when you know your house smells like this. However, this is not the case for everyone.
Naturally, homes develop certain odors from the trash can, the shoe box, the musty closet, and others. Some smells require special cleaning and high-grade chemicals to get rid of, and others require a bit of freshening up.
We turned to the experts, here is a list from Boris Ostrovsky, director of VepoClean Home & Apartment Cleaning Service in Hoboken NJ to list five ways you can keep your house smelling fresh and amazing all the time, and here is what he shared with us.
TIP 1: Disinfect Your Trash Can
"Often it's the odor from food leftovers and other biodegradable items that can create a nasty smell in your kitchen," Boris shared. However, you may notice that even after disposal, your trash still has an unpleasant odor. To eliminate this, scatter some baking soda in your trash or put a deodorizing pod, then finish it off with a disinfectant. You may also use dryer sheets or charcoal, which also perform wonders!
TIP 2: Clean Your Garbage Disposal
Your garbage disposal takes more than just cleaning–it needs to be disinfected from time to time. While you can buy disinfectants, there are other ways you can guarantee it's odorless.
You can use lime or lemon rinds, then lots of water. You may also squirt some lemon-scented dish soap into your disposal, run the water, and turn on the disposal. If the citrus-type cleaning doesn't successfully eliminate the odor, you can pour half a cup of baking soda while running warm water into the disposal. That should do the trick.
TIP 3: Freshen Up Your Carpets
Carpets are great filters to trap dust and allergens, but that also means they can absorb stench over time. You may be extra careful around your carpet by avoiding spills and food scraps, but the stench still develops. To get rid of this smell for good, scatter some baking soda onto all areas of your carpet and let it sit for several hours. After that, you can use a good quality vacuum to remove the powder and the odors it has absorbled. This should successfully remove the minor smell off of your carpet and rugs, as well as pet beds and mattresses that have a similar odor. But this does not take the place of regular professional carpet cleaning to do a deep-down cleaning and restore your carpets to a like-new state of cleanliness and freshness.
TIP 4: Use Scented Candles
Lighting candles or using unlit ones is one easy and quick way to get rid of odor in your home. Lighting scented ones can easily change the smell of a room and bring you in a positive mood. While that is a good option, there's another easy way of using candles in absorbing the musty scent of closets and fabrics and replacing them with aromatic ones.
To do that, place your candles in cabinets or wherever you put fabrics, but don't light them. This will absorb the scent and give your linens a fantastic smell. Strategically placing your candles around your house also maximizes their efficacy.
TIP 5: Decorate With Indoor Plants
Plants easily change the atmosphere of a home and help clean the air. Aside from health benefits, bringing plants indoors can also get rid of the stench. You can use pleasant-smelling plants like gardenias, jasmine, and eucalyptus. Also, treat your plants as you would a pet to keep them longer in your home.
In Conclusion
Keeping a home that smells good all the time doesn't have to be a lot of work. You can use quick fixes like disinfectants and scented candles to do the trick, but regularly cleaning smelly areas like your trash can address the source's smell. Make it a habit to clean and keep your home fresh and inviting for better living conditions.
Professional deep cleaning services are another option to explore if you want a home that stays smelling fresh and amazing 24/7. Vepoclean Home Cleaning Services Director Boris Ostrovsky had this to say about cleaning homes; "Taking the time to clean every inch of your home can be tiring and inefficient, especially if you only have yourself to take on a house cleaner's role." And we totally agree! Not everyone has the time to devote to cleaning, what with our work and taking care of our families.
VepoClean Home & Apartment Cleaning Services is a reliable professional house cleaning service in Hoboken NJ that will help your home stay clean and smell great. They have a team of experienced cleaners that clean, disinfect, and use essential oils to give your home a unique spa-like cleaning experience. You are invited to visit them online to schedule an appointment and get a cleaner house that smells better today! https://www.vepoclean.com/