Regular Cleaning or Deep Cleaning: What's the Difference?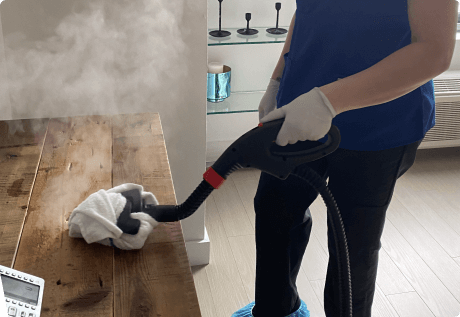 Regular House Cleaning vs Deep Cleaning
If you decide to hire professional cleaners that differentiate between regular cleaning and deep cleaning, this is the first question that will pop into your head:
What is the difference between deep cleaning and regular cleaning?
Before hiring cleaning services, it's crucial to understand the difference of their definition between regular cleaning and deep clean. Depending on your needs and requirements, your property may need a deep clean or just regular cleaning to keep your house clean and tidy.  
Keep reading to find out everything about these two types of cleaning services and what type of cleaning you need. 
What is Regular Cleaning?
Regular cleaning is usually intended for maintenance purposes, it helps support a good level of cleanliness in your home. When you hire professional cleaners for regular cleaning, you can expect that all the items and surfaces you clean on a daily and weekly basis will be thoroughly cleaned.
In general, regular cleaning takes less time but it doesn't mean that the cleaners will skip some tasks or will try to compromise the quality of work. They will accomplish all the essential cleaning chores to help keep your home free from dust, dirt, and rubbish.
What is Normally Included in Regular Cleaning?
Here are some of the common tasks included with regular cleaning:
Tidying up and organizing the house

Mopping floors 

Vacuuming carpets and rugs 

Cleaning kitchen, wiping surfaces,

including

cooktops, outside of

appliances

Cleaning the bathroom and shower,  sinks, toilets, and bathtub

Wiping doors, windows, and mirrors

Removing cobwebs and taking out the trash
What is Deep Cleaning?
Deep cleaning is a more extensive and detailed type of cleaning, therefore, takes more time to be accomplished and more expensive than regular cleaning. 
The cleaners not only mop, wipe, and vacuum some traditional areas, but clean all the hard-to-reach spots including inside of cabinets and appliances. A deep cleaning service will help remove the deep grime and dirt and give your house that brand new home feeling once again. This type of cleaning helps improve overall sanitation and hygiene in your home or work environment.
Note: All VepoClean cleanings could mean deep cleaning as long as you request add-on services.  You may choose to rotate them from cleaning to cleaning.
What is Included in Deep Clean?
For cleaning companies other than VepoClean, a deep clean covers all the areas that are traditionally covered by a regular clean, and some additional areas, inside and outside. However, if you're happened to be VepoClean client, most of these chores with few exceptions are included in your regular cleaning.  The only difference is cleaning the areas VepoClean classifies as add-ons.  Here are some of the cleaning jobs included with deep cleaning:
Removing scale and soap scum from the bathroom and kitchen tiles, taps, showerheads, etc

Cleaning behind

appliances

like the oven, washing machine, and refrigerator 

Cleaning under the sink,  inside the oven, and glass door

Washing blinds, interior windows, window frames, patio doors 

Dusting the baseboards and doors in all rooms
Those are the standard cleaning tasks that most of the companies offer when you request deep cleaning. At VepoClean, we may provide some additional cleaning services, including carpet cleaning, odor removal, and disinfection services. You may check out our deep cleaning checklist here and get a better understanding of what cleaning methods and technologies we use.
When Do You Need to Deep Clean?
Not in every situation you need a deep clean. However, there are specific situations when deep cleaning with a detailed approach is necessary. Here are just a few examples when your property needs a deep clean:
Many companies have a rule that the first cleaning should be a deep clean. So, if you're a new customer, you might need to invest in deep cleaning before scheduling regular daily or weekly cleaning.

When you're moving out of the apartment, deep cleaning is simply a must. If you leave the place trashed and filthy, the landlord can deduct from your security deposit. In order to get your deposit back, it's better to take care of the

cleanliness

of the accommodation.

If you want to throw a party, but don't have time for cleaning, hiring deep cleaning services is a great solution to prepare space for guests fast.

When your house needs spring cleaning, don't hesitate to hire professional cleaners to deep clean and disinfect your home. Hiring deep cleaning helps refresh your house and rid it of all the dust, dirt, and germs.

If you're selling your home, hiring professional deep cleaning services can help make the property more attractive to potential customers and increase your chances of closing the sale. If you need to

deep clean your home before listing

it, you can always rely on VepoClean.
Which Cleaning is Right for You?
When you hire cleaning services, you may wonder what type of cleaning you should choose. If it's your first time, we recommend starting with a deep clean. Then you can schedule regular cleaning on a daily, weekly, or monthly basis. 
Also, before hiring the cleaning company, it's good to talk with their professionals to discuss which type of cleaning and methods will meet your unique needs and requirements. 
You can learn more about our approach to cleaning and the deep cleaning services we perform here. At VepoClean, we don't classify deep cleaning as a premium type of cleaning services. For us, deep cleaning is more like a standard. We always try to clean thoroughly every nook and cranny, creating a safe and clean environment for our clients. 
Don't hesitate to contact the VepoClean team of professionals for more details today. We'll gladly assist you with all the cleaning challenges.